To Book for an Event or Quiz go to the Event Booking & Menu Choice  or Quiz Booking & Menu Choice within the Members Section of the website.
All events are open to Non-Members
Thursday 10 January 2019 - New Year Quiz

After the Excesses of Christmas and New Year it's time to shake of the covers and look back and reflect on 2018, which will be the theme of this quiz. There will also be nostalgia in the music round, so give it a whirl for your first GASC Quiz of 2018. Tasca Olivense will once again be supplying a delicious 3 course meal with wine, water or soft drinks.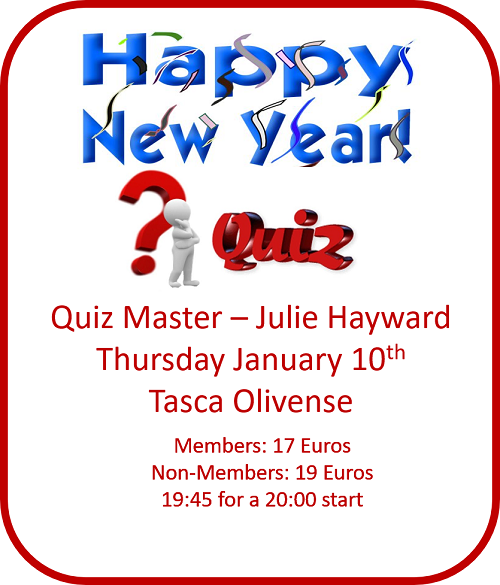 Thursday 24 January 2019 - Sean Mac

A brand new act to the Costa Blanca, we are delighted to introduce Sean Mac, a young and extremely talented singer and dancer and most definitely a born entertainer!
Sean covers multiple genres of music from Olly Muirs to Stevie Wonder, 60's, 70's, 80's and now. Already established in the UK and Ibiza, Sean is now over here to entertain you!
A great night of song and dance with something for everyone.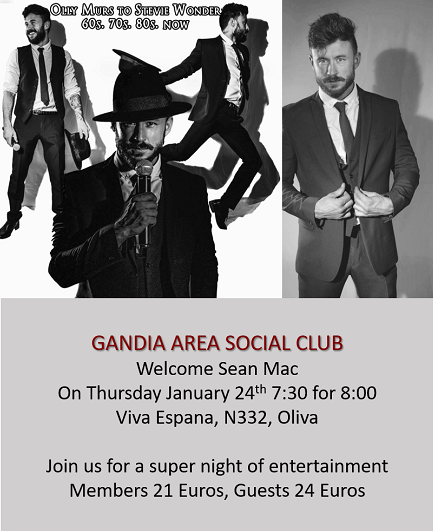 Tuesday 29 January 2019 - Annual General Meeting

Yes it's that time of year again, the New Year Celebrations are a memory and we are now looking forward to the fantastic Events we have lined up for you during our 30th Birthday year - 2019.
It is a criteria of any Club to hold an AGM and we are no exception, it is imperative that we have a core group of 75 members attend the AGM to be quorate, so please put aside the time to come and join us.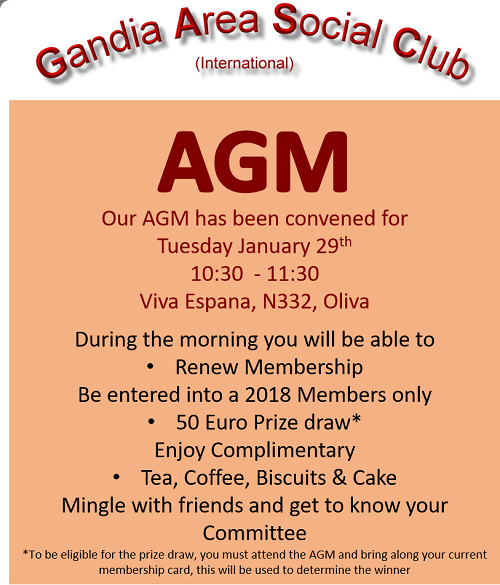 Thursday 14 February 2019 - St Valentine's Party with Mr MELVIN GALLANT
We are truly delighted to announce our live music show to celebrate St Valentine has Melvin Gallant making a return visit. I can tell you that he has refused four other requests to perform on this night which, as I write, is a whole 10 months away. He is much in demand.
We are so lucky to have this hugely talented artist sing for our club It will be a great night, guaranteed!
Viva Espana, N332, Oliva - 7:30 for 8:00
Booking essential at: gascbookings@gmail.com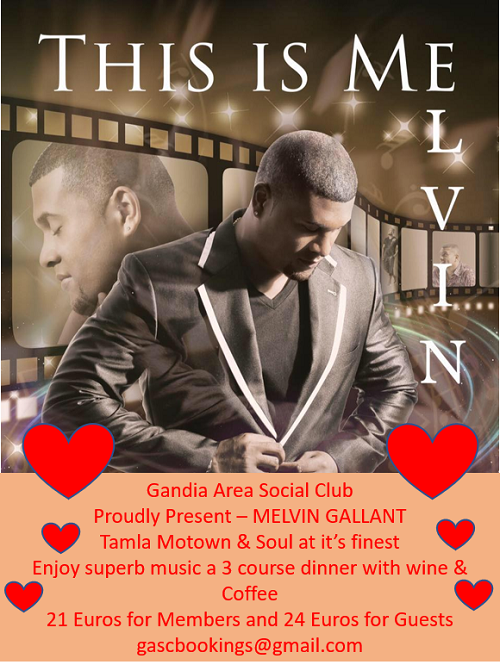 Thursday 14 March 2019 - To Celebrate St Patrick's Night we have DUSTY!
St Patrick's Day Parties and Festivals happen all over the world. Now the GASC will have our own party - but a few days early (as the 17th is a Sunday).
The music will be a tribute to Mary Isobel Catherine Bernadette O'Brien - DUSTY SPRINGFIELD! We guarantee it will be superb.
Karen Noble is a gifted, classically trained singer and is wonderful with Dusty's songs - she has even recorded CDs of songs made famous by Dusty.
There will be music for taking to the dance floor or sitting back and enjoying along with a good dinner and a special St Patrick's Day party atmosphere. Hope you can be there.
Thursday 25 April 2019 - ENGLAND'S DAY! Celebrate St George at the GASC
We have to be two days late......unfortunately but we can still gather and enjoy and evening together.

We have booked the extremely skilled band The StarBeats to play for us live on stage the most memorable songs from many decades - hits in England from lots of Music legends.
So, this will be wonderful musical evening with traditional dinner too. Let's be proud and show it!
Thursday 30 May 2019 - GASC 30th Birthday Party
Tbc
Thursday 20 June 2019 - - BARN DANCE - .
We have had numerous requests for another Barn Dance and are delighted to say that we have The Shamrockers band together with the expert caller Aileen Lightfoot booked.
We do hope that many, many members will be there to have a go at this hilarious activity. Its great when you get it right, its great when it goes horribly wrong!
The Dinner will have a tasty Cowboy/BBQ grub theme but there will be choices, of course.
So, find those boots, put on that check shirt, denim jeans and a hat and see you there!
Thursday 18 July 2019 - ANNUAL BBQ at El Eden with LIVE TRAD JAZZ BAND
The El Eden has been a super venue for a summer BBQ get-together. Great BBQ food in abundance and in the open air amongst the orange groves.

This year we are delighted to announce the musical entertainment will be from the brilliant jazz band with players The New Jubilee Jazz band. They will play for us a wide range of compositions Dixie, Rag Time,New Orleans and much more. Book early to be sure to enjoy the delicious food on a sunny day full of the rhythms and warm sounds of clarinet, trombone, double bass, trumpet ....... It is a MUST!
Thursday 19 September 2019 - ROD STEWART SHOW! Yes, David John returns
We are delighted to announce that David John will be back with us. His show in March 2018 was totally fabulous and hugely enjoyed by the 170 at Viva Espana.
I am sure that David will give us another terrific evening with all the songs Sir Rod has made so famous, memorable and song-a-long.
Do not miss this evening. Sit and watch or take to the dance floor, but make sure you are there!

Friday 18 October 2019 - THE ACE BAND............CONCERT
We do hope you will be able to be at the Viva Espana on this day. The Ace Band concert promises to be a highlight of the year.
Countless classic songs performed live for us by this highly talented five piece band.
See you there!
Thursday 28 November 2019 - Celebrate St Andrews Day with the GASC
So many of us, from whichever country (!) thoroughly enjoyed the St Andrews Day party in 2017 that we have arranged another.
We will again have the special dinner and music from the terrifically skilled Danny McRae.
Come and enjoy the party with friends old and new. Join in with the fun or sit back and people watch! I must mention that we have to hold the event on Thursday 28th as the Viva Espana is not available to us on the 30th.
Thursday 12 December 2019 - CHRISTMAS PARTY and what a night for MUSIC!
We are delighted to announce the GASC Christmas Dinner Dance which will be on Thursday 12th Dec.

The music will be superbly presented by Rae and Ricky. They are incredibly skilled with their guitars and harmonies - a quality of sound that you may have thought only Don and Phil Everly could achieve. But also individually they have the voices and ability for the romantic tones of Roy Orbison and the energy of those lively, memorable Buddy Holly songs.
The night will also have our annual SnowBall free draw with big money prizes - be sure to bring your membership cards!
What other activities would you like ?
NOTE
The Committee would like to remind members of the dress code for the Thursday evening dinners. Smart Casual Wear, no Shorts, Vests or T-shirts. However in the months of June, July and August smart shorts will be acceptable.
Also: all outside events and activities are undertaken at your own risk.
For more info on any of these events or other club matters contact moc.liamg@sgnikoobCSAG