To Book for an Event or Quiz go to the Event Booking & Menu Choice  or Quiz Booking & Menu Choice within the Members Section of the website.
All events are open to Non-Members
Friday 7 September 2018 - Club visit to Viva Espana's Andalusian Show
We are delighted to announce that Jacqueline has again this year offered all club members (and their guests)a chance to see her famed Andalusian Horse and Flamenco Show with a Three Course Dinner. At the very special price of 25 euros per head - a massive saving on the standard price.
It is a super show, and an excellent offer. Guests are welcome but they must be with GASC members.
Book via gascbookings@gmail.com as usual but do please note that we have no control over the table lay-out/designs! Also do note that this is on FRIDAY !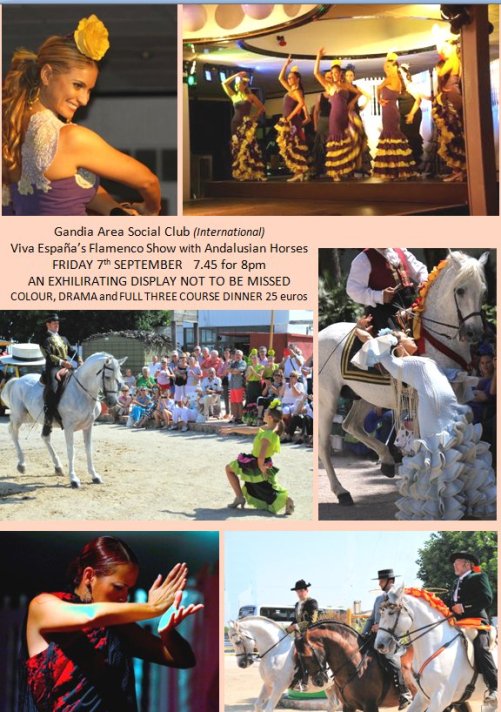 Thursday 13 September 2018 - QUIZ El Eden
After the long hot summer why not come along to rejuvenate the little grey cells and join us for an evening of quizzing, catching up with friends whilst enjoying a 3 course meal.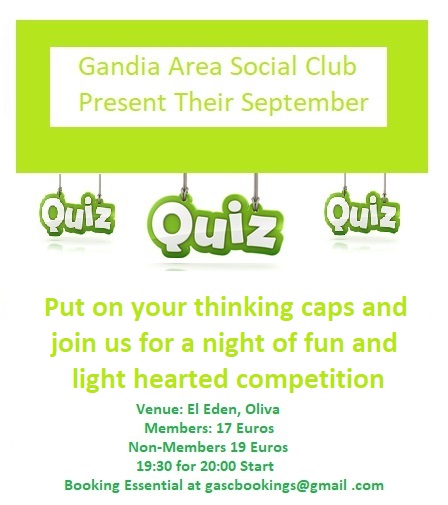 Thursday 20 September 2018 - .- - - - - THE BLUES BROTHERS - - - - - -
YES! We have the Blues Brothers Experience from Benidorm.
The film the Blues Brothers was centred around two brothers - Elwood and Jake Blues - immediately after Jake's release from prison. They were raised in an orphanage and become determined to save it from closure by re-forming their band to earn the money needed. The chaotic scenes as they are chased by police and gangsters whilst trying to perform makes this a brilliant comedy film with cult status. Their rock and roll is exhilarating.
Blues Brothers Experience Benidorm make a fantastic show the music is terrific and their sense of fun infectious. Derek and David are hugely entertaining, full of the energy and musical ability of the originals and have achieved considerable acclaim in Spain.
Their show will make you smile, laugh out loud, dance, shout, wave and clap. They are one of the most unique and best acts to see in this part of Spain. Recommended most strongly. " We Need You, You, You " !!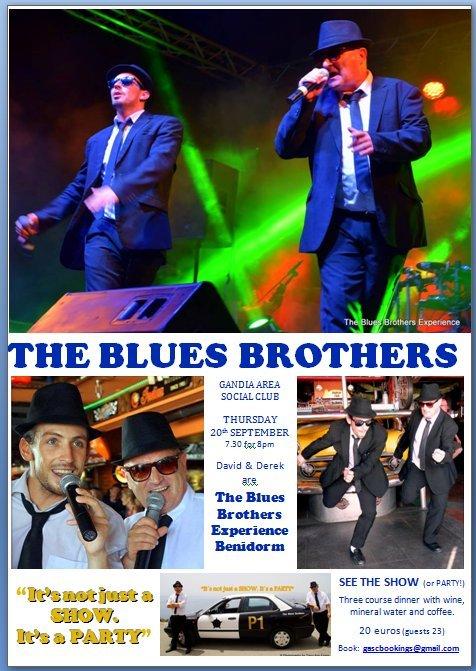 Thursday 18 October 2018 - He's Back!.........Yes ELVIS !! and the Timewarp Duo too
We are thrilled to announce that we have secured a visit from Simon Patrick with his extraordinary tribute to Elvis Presley. He is a phenomenal performer ask anybody who saw him here in April 2016. Winner of the Best European Elvis Award in Las Vegas, Simon has made appearances over much of Europe.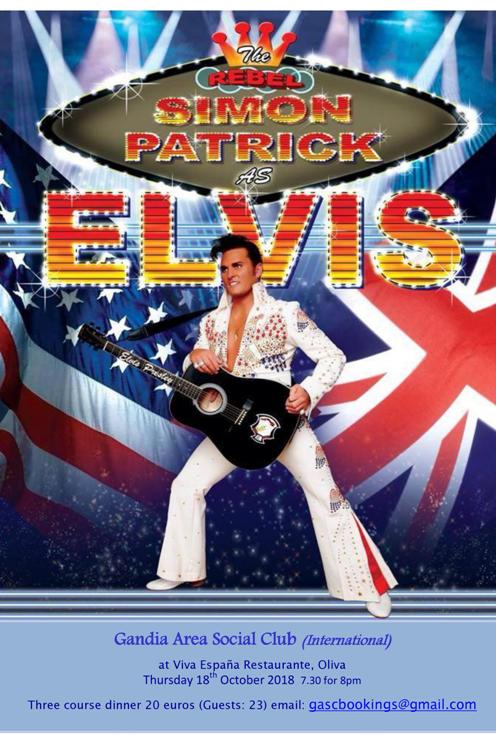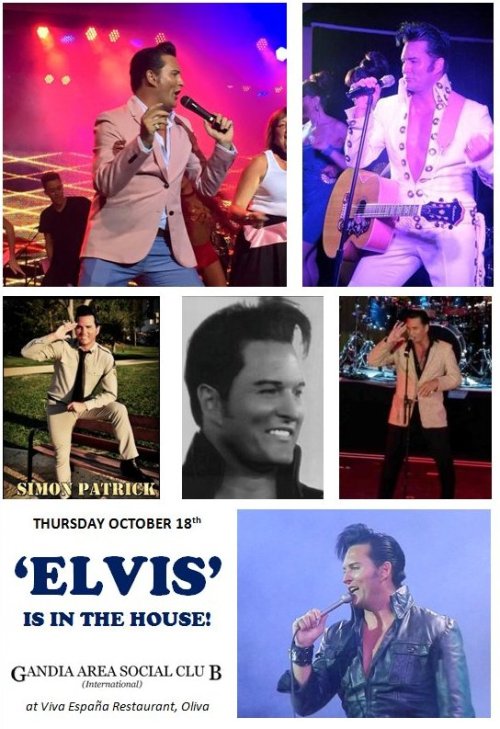 Thursday 15 November 2018 - GEORGE MICHAEL - The very Finest Tribute & Timewarp Duo too
...............PLEASE READ THIS:-
Careless Whisper, A Different Corner, Jesus To A Child, I Can't Make You Love Me, Amazing, Praying For Time, Faith, You Have Been Loved, Outside, Fast Love ...... and dozens more by the late George Michael.

On his death the BBC stated that "He was a pop superstar and philanthropist, with good looks, fine singing voice and song writing skills and fantastic stage presence." But George Michael was a flawed genius and his personal problems were well documented but the beautiful and clever music written with meaning from the heart will remain.

James Bermingham
Some years ago on our first cruise holiday one night in the theatre there was a singer, a tribute to George Michael. I wasn't that interested – as we had all of George's albums - how could this guy on our cruise ship match the CDs played at home on our Hi-Fi ?
But, was I wrong. The artist was totally brilliant – with the looks, style and voice of George at his peak, at his very best. I was 'blown away'.

After three years of trying we can at last bring that performer to the GASC. James Bermingham lives in Ireland but will be with us on this night.

James has been performing his Tribute since 2009, he is also an accomplished musician and studio engineer & music producer. He has performed extensively throughout Europe and Australia.
This will be a night with George's beautiful songs sung with excitement, drama and emotion, I cannot recommend anything more strongly.
With Timewarp Duo too to complete the evening!

Thursday 13 December 2018 - The sounds of the CAVERN CLUB for our Christmas Party
Liverpool's Cavern Club comes to the GASC!
It was the mid 1960s and the wealth of groups from Liverpool with their infectious songs will never be forgotten!
The focal point for the music was the Cavern Club. So for our entertainment on this night we have the terrific Starbeats band playing live for us the songs of Gerry & The Pacemakers, The Searchers, Bill J Kramer, The Beatles and loads more.

The dinner will be a traditional succulent Turkey dinner but there will be alternatives.
The evening will have a host of extras including our free draw (for members) with cash prizes amounting to 300 euros.

This will be super evening to be at your club, with your friends and so many friendly faces. Don't miss it!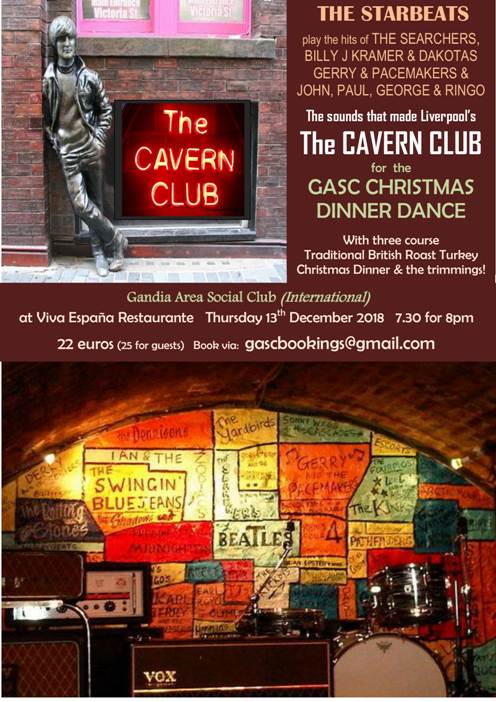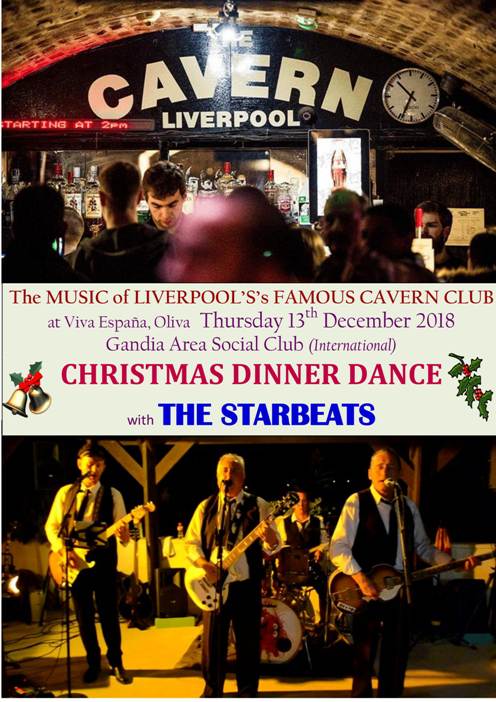 Saturday 12 January 2019 - SHONDELL MIMS Soul Sensation & Aretha Franklin
We are delighted to welcome you to the first show of 2019 with the international artist Shondell Mims.
originally from California Shondell has lived in Europe for most of her life. She has regular touring shows in Germany especially, but has a property in the Costa Blanca that she calls her home. Her evening will focus on the songs known as Soul but she appreciates a wide variety of artists and will include very popular songs from Whitney Houston, Dionne Warwick, Tina Turner and Donna Summer as well as her 'signature' artist Aretha Franklin. This event is strongly recommended to you. If you are there you will enjoy! If you aren't you won't! We do hope yo see many, many members. 7.30 for 8pm Prompt Start with Dinner!
Thursday 14 February 2019 - St Valentine's Party with Mr MELVIN GALLANT
We are truly delighted to announce our live music show to celebrate St Valentine has Melvin Gallant making a return visit.
I can tell you that he has refused four other requests to perform on this night which, as I write, is a whole 10 months away. He is much in demand.
We are so lucky to have this hugely talented artist sing for our club It will be a great night, guaranteed!
Thursday 14 March 2019 - To Celebrate St Patrick's Night we have DUSTY!
St Patrick's Day Parties and Festivals happen all over the world. Now the GASC will have our own party - but a few days early (as the 17th is a Sunday).

The music will will be a tribute to Mary Isobel Catherine Bernadette O'Brien - DUSTY SPRINGFIELD! We guarantee it will be superb.
Karen Noble is a gifted, classically trained singer and is wonderful with Dusty's songs - she has even recorded CDs of songs made famous by Dusty.
There will be music for taking to the dance floor or sitting back and enjoying along with a good dinner and a special St Patrick's Day party atmosphere. Hope you can be there.
Thursday 25 April 2019 - ENGLAND'S DAY! Celebrate St George at the GASC
We have to be two days late......unfortunately but we can still gather and enjoy and evening together.

We have booked the extremely skilled band The StarBeats to play for us live on stage the most memorable songs from many decades - hits in England from lots of Music legends.
So, this will be wonderful musical evening with traditional dinner too. Let's be proud and show it!
Friday 24 May 2019 - BACK! .... TAKE THAT BENIDORM.... Super Show!
We have agreement in principal for a return by the brilliant guys that are:-
.. ....--- TAKE THAT BENIDORM ---....

We will have to wait and wait to hear that they are in Spain and available for us. But fingers crossed - it will be a lively, fun and musical night. The guys have such charisma and sound excellent.
Thursday 20 June 2019 - - BARN DANCE - .
We have had numerous requests for another Barn Dance and are delighted to say that we have The Shamrockers band together with the expert caller Aileen Lightfoot booked.
We do hope that many, many members will be there to have a go at this hilarious activity. Its great when you get it right, its great when it goes horribly wrong!
The Dinner will have a tasty Cowboy/BBQ grub theme but there will be choices, of course.
So, find those boots, put on that check shirt, denim jeans and a hat and see you there!
Thursday 18 July 2019 - ANNUAL BBQ at El Eden with LIVE TRAD JAZZ BAND
The El Eden has been a super venue for a summer BBQ get-together. Great BBQ food in abundance and in the open air amongst the orange groves.

This year we are delighted to announce the musical entertainment will be from the brilliant jazz band with players The New Jubilee Jazz band. They will play for us a wide range of compositions Dixie, Rag Time,New Orleans and much more. Book early to be sure to enjoy the delicious food on a sunny day full of the rhythms and warm sounds of clarinet, trombone, double bass, trumpet ....... It is a MUST!
Thursday 19 September 2019 - ROD STEWART SHOW! Yes, David John returns
We are delighted to announce that David John will be back with us. His show in March 2018 was totally fabulous and hugely enjoyed by the 170 at Viva Espana.
I am sure that David will give us another terrific evening with all the songs Sir Rod has made so famous, memorable and song-a-long.
Do not miss this evening. Sit and watch or take to the dance floor, but make sure you are there!

Friday 18 October 2019 - THE ACE BAND............CONCERT
We do hope you will be able to be at the Viva Espana on this day. The Ace Band concert promises to be a highlight of the year.
Countless classic songs performed live for us by this highly talented five piece band.
See you there!
Thursday 28 November 2019 - Celebrate St Andrews Day with the GASC
So many of us, from whichever country (!) thoroughly enjoyed the St Andrews Day party in 2017 that we have arranged another.
We will again have the special dinner and music from the terrifically skilled Danny McRae.
Come and enjoy the party with friends old and new. Join in with the fun or sit back and people watch! I must mention that we have to hold the event on Thursday 28th as the Viva Espana is not available to us on the 30th.
Thursday 12 December 2019 - CHRISTMAS PARTY and what a night for MUSIC!
We are delighted to announce the GASC Christmas Dinner Dance which will be on Thursday 12th Dec.

The music will be superbly presented by Rae and Ricky. They are incredibly skilled with their guitars and harmonies - a quality of sound that you may have thought only Don and Phil Everly could achieve. But also individually they have the voices and ability for the romantic tones of Roy Orbison and the energy of those lively, memorable Buddy Holly songs.
The night will also have our annual SnowBall free draw with big money prizes - be sure to bring your membership cards!
What other activities would you like ?
NOTE
The Committee would like to remind members of the dress code for the Thursday evening dinners. Smart Casual Wear, no Shorts, Vests or T-shirts. However in the months of June, July and August smart shorts will be acceptable.
Also: all outside events and activities are undertaken at your own risk.
For more info on any of these events or other club matters contact moc.liamg@sgnikoobCSAG