Diary dates below. Please note: some of these diary dates/events may be provisional. Most excursions and events are open to non members.
Thursday 21 September 2017 - TAMLA MOTOWN and SOUL night with MELVIN GALLANT
For this month's Dinner and Dance we have a terrific singer with the style and rhythm of the Motown singers and groups. Melvin Gallant achieved fame in Holland before leading tribute groups in Spain like Benidorm's excellent trio 'Timeless'.

If you have enjoyed the music of The Temptations, The Four Tops, The Drifters and Marvin Gaye, Sam Cooke, Smokey Robinson, Ray Charles, Stevie Wonder Lionel Richie and more! Do not miss this show.

Even better, to support Melvin and his guests and to provide perfect music for dancing, or listening, late into the night will be our superb and so talented friends Timewarp Duo.
Sunday 1 October 2017 - THE GASC WEDNESDAY WALKING GROUP
THE WEDNESDAY WALKERS - an invitation to participate - on any week on any month!
Lisa Lea - the club's previous secretary has asked me to post a note on the web site about this group activity.
She reminds us all that this is a resource offered freely in a bid to promote healthy lifestyle choices.
Please do give Lisa a call if you would like to stretch those legs, burn some calories and enjoy the excellent scenery of our area as well as the companionship.
Thursday 5 October 2017 - Charity Race Night at Monroe's for Red Cross Food Bank
I want to tell you about this event even though it is not a GASC event.
This year the club will not have a Horse Race Night or other main event for charity.

However, I am involved along with a number of members, in the entertaining horse race film fun, at Monroe's with their tasty Carvery meal. All proceeds will be for the Red Cross Food Bank - helping families in dire straits. Book direct with me or Red Cross's 'Sandy' or do contact me for more information if you need it. It will be an amusing and quite exciting evening. I do hope to see many GASC members there enjoying themselves and supporting The Red Cross - they 'Never Look The Other Way', true Good Samaritans.
Thank you most kindly, Alan

NB PLEASE NOTICE THE EARLY START! 6.00 for 6.30pm
Saturday 7 October 2017 - FOUR PLAYS 4 AUTUMN! Comedy Farce Thriller Drama
The excellent local Am-Dram troupe - the Oliva Drama and Cultural Association have a super idea for the autumn - four plays in one! Their shows are deservedly very well supported, the next performance sounds brilliant. Book via: olivadramagroup@gmail.com or phone: 644889155. Here is the announcement on their association's Facebook.

For one night only in October, Oliva Drama and Cultural Association are doing something a little different and are performing 4, one act plays - 4 FOR AUTUMN.
We are supporting both VEDAMA and PEPA from this event and the proceeds from the evening will be shared equally between the two local charities, so we look forward to your continued support and hope you enjoy the show.

Thursday 19 October 2017 - It's SHOWTIME with SHOWADDYWADDY LEGEND
For a really good evening out with lively music and dinner with your friends don't miss this show.

Showaddywaddy Legend create a superb evening with an all encompassing good mood atmosphere. They have a strong sense of fun and flair with their music and clothes!

Three Steps to Heaven, Heartbeat, Under The Moon of Love, You Got What It Takes and Who Put The Bomp ! ..... Such perfect party songs, if you are not dancing I guarantee your feet will be tapping.

Come and enjoy this show - I know you will be glad you did. It is for energetic dancers, and those who don't usually leave their chairs, equally.

............PLEASE NOTE THIS MONTH'S FEATURE...........
There will be a FREE RAFFLE! Many good prizes but we don't need your money! One raffle ticket will be given free of charge to each and every member of the club attending.

I must tell you that a few years ago I was occasionally in an Am-Dram pop group - we were known as 'Shoddywaddy' or was it 'Sloppywaddy'?! Both names were suitable! Hope to see you there, Alan.
Thursday 9 November 2017 - GASC light-hearted QUIZ and DINNER at Tasca Olivense
NB Our FINAL QUIZ of 2017!
Please book in plenty of time as this lovely restaurant with our private room, beautifully cooked and presented food isn't big!
Have no doubt this will be a most enjoyable evening with the high class food and wine and good mood prevailing.
Quiz Master ? I hear you ask..
We welcome back the charming Elaine Hyderman. Thanks Elaine!
Thursday 16 November 2017 - BACK by POPULAR DEMAND: ABBA ELITE
Surely the club has never had such a wonderful reaction to entertainers for a Dinner Dance.
Abba Elite have sheer ability, style and flair in abundance. Musical talent and cohesion, verve and charisma, colour and flair. They are fantastically good.

So, we have them booked for this date - as I write it is over a year away - but the band travel to tour Europe for many months each year so I had to make a date when they are available.
This is an unmissable night's music and spectacle. I do hope nearly everybody can see this show.
Thursday 30 November 2017 - ST ANDREW'S NIGHT PARTY - celebrate with live music
NB ... There will not be any Bagpipes at Viva Espana tonight! ... Phew!

But this evening will have a flavour and we want to celebrate Scotland. We can dine together and will hear some of the best pop songs of the last 50 years from Scottish Artists.
Dire Straits lead guitarist, Mark Knopfler, Jack Bruce of Cream, Marti Pellow of Wet Wet Wet, Snow Patrol, The Proclaimers - perhaps many more artists than you thought are from Scotland!

Our live entertainer is none other than Danny McRae. He is a superb musician and singer too (a few years he gave us a wonderful evening as 'Buddy Holly' and was one half of 'The Everly Brothers').
So let's join our friends from north of the border and this year celebrate their special day.I look forward to it immensely. Dress optional.......
Thursday 14 December 2017 - CHRISTMAS PARTY at Viva Espana - Tinsel & Turkey!
MAKE UNFORGETTABLE MEMORIES HERE! CHRISTMAS SPECIAL.

PLEASE BE THERE AND BRING YOUR MEMBERSHIP CARDS.
ALL CARDS WILL BE COLLECTED AND A DRAW WILL BE HELD. TO HAND OUT CASH PRIZES immediately to the names drawn out the hat.
150 euros first prize
100 euros second prize
50 euros third prize
Thursday 14 December 2017 - CHRISTMAS PARTY - A SPECTACULAR EVENING
Our Christmas Dinner Dance will be a magnificent evening.We have a truly epic show lined up.

We have booked Angie Lang to give us both parts of her artistry. Her 'Divas' show will feature songs by Whitney Houston, Diana Ross, Barbra Streisand, Dionne Warwick, Shirley Bassey and Eva Cassidy and more modern artists like Beyonce, Cher and Adele.

But after a short break she will perform with her dancers a tribute to Madonna. We are so glad that she will be with us .... and not elsewhere.......

We are delighted to say that to complete the evening we have the well loved duo Timewarp to fill the restaurant with lively sound and get us all dancing. Don't miss this event and incidentally the evening will have some very pleasant surprises too.

Pauline and I attended a special 'Showcase', with a couple of friends, in Benidorm a year ago. We watched and listened to many different artists, singers, bands, comedians, ventriloquists! believe me Angle lang was 'head and shoulders' above the rest. She is exceptional - has charm and charisma and makes it look easy too.
Thursday 11 January 2018 - Welcome in the New Year with GREG BANNIS
This night should help us find some energy for the new year!

Greg Bannis became lead singer with the very successful group called Hot Chocolate and continued for almost 18 years. As a solo artist he performed in many countries especially Germany, but fortunately he loves being on the Costa Blanca - so we have secured him for the club.
He is a real 'showman' and entertains with energy and style the songs of his old group, the stars that inspired him and reggae too. Hope to see you.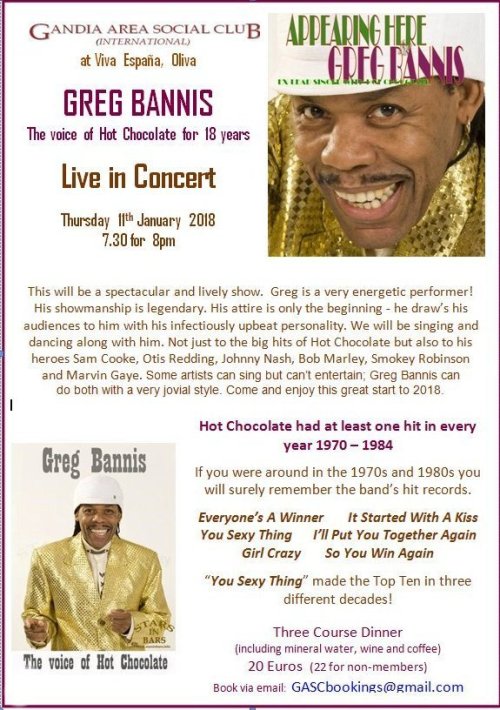 Tuesday 16 January 2018 - TUESDAY MORNING ---- THE VITAL CLUB AGM --
.... -- TUESDAY 16th JANUARY 10.30am -- ..

Nobody likes attending meetings!! we do understand BUT this is such an important meeting.

We must have a good percentage of the membership to attend and vote, otherwise the club will break its own rules, the statutes, and another will have to be called asap! That would be a real nuisance to everybody.

There has to be some changes to the team and they need to be 'voted in'. There are the reports on the club finances too, you should be there! So come along, enjoy the refreshments and please prompt your club friends to attend too.

Decisions Are Made By Those That Turn Up !
I hope you will be one of those that support this time.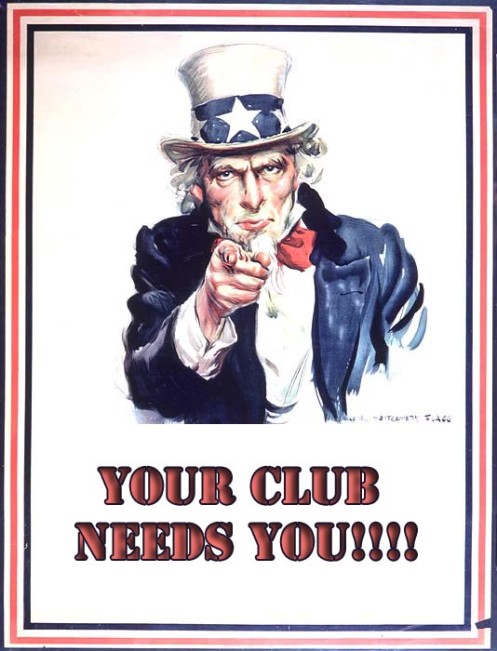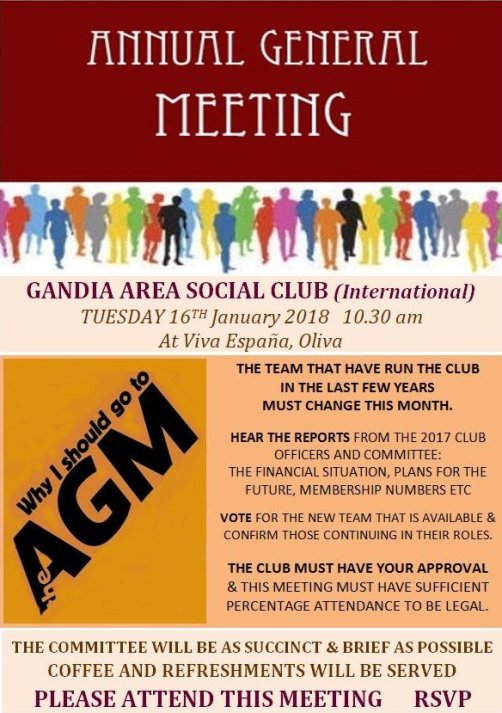 Thursday 15 February 2018 - Karen Noble entertains us for our St Valentine's Night Party
Our Live Music, Dinner and Dance for St Valentine's Night will be on Thursday 15th February. KAREN NOBLE back by popular demand.

I am delighted to announce that we have Karen returning with another selection from the wonderful music, the songs from the Musicals. I doubt that there is a finer artist to hear perform these complex, emotional, rich and beautiful songs in the whole of Spain. After a short beak we will have the other side to Karen's talent (and her own love!) the songs we love to dance to - but to 'sit it out' is fine too! Do come to see and hear and absorb this show, enjoy the company, the dinner and the truly gorgeous music with your fellow club members.
Thursday 22 March 2018 - ROD STEWART a tribute by the best - David John
...... -- TONIGHT'S THE NIGHT! -- .....
Sir Rod Stewart is one of the best-selling music artists of all time, having sold over 100 million records worldwide. He has had six consecutive number one albums in the UK and his tally of 62 UK hit singles includes 31 that reached the top ten, six of which gained the number 1 position.
Rod the Mod was a keen footballer but made music his career in 1963 and had his first No. 1 hit album in 1971.
David John has an uncanny resemblance to Sir Rod and his close rendition to the many pop standards is exciting and encourages us to join in the chorus!
I know that this show will be very popular, don't miss it!

Thursday 19 April 2018 - The Superb CHARLENE DEVLIN with DIVAS of POP
Charlene will give us a fantastic evening with her rendition of the big songs, the memorable huge hits from a dozen big international names. Cher, Shania Twain,Shirley Bassey, Dusty, Kate Bush, Gloria Estefan, Adele, Carly Simon, The Carpenters and more... POWER BALLADS, LOVE SONGS & ROCK 'n' ROLL - DIVAS on FIRE !
Charlene's voice has a great range and is powerful yet smooth on the ear, she really does have real musicality. Charlene has been with us twice before (remember 'Sister Act'?) and is looking forward to seeing us all - I am much looking forward to seeing and hearing her.
This will be another terrific night, I guarantee. Come and hear for yourself!
Thursday 24 May 2018 - THE PHIL COLLINS EXPERIENCE by Rob Lewis.
Against All Odds, In The Air Tonight, Take A Look At Me Now, Another Day in Paradise, One More Night.
Many more, more songs were huge international hits for Phil Collins and then there were all the winners from the band called Genesis.
Rob Lewis bears a real resemblance to his hero and has been a professional singer for more than 10 years. In 2005 Rob was a winner of ITV's Stars in Their Eyes which brought him a thank you letter from Phil Collins himself!
Don't miss this evening of the up-beat, melodic and easy to enjoy (and romantic) music performed live by Rob Lewis. This will be a great night. I do hope you can be there.

Thursday 21 June 2018 - THE RAT PACK and TOM JONES Double Show
Jim McMail has a seriously beautiful, rich, powerful and warm voice. He has an uncanny ability to capture the essence of those three guys Dean Martin, Sammy Davis Junior and Frank Sinatra. But further his tribute to Sir Tom Jones is superb too. The sounds, the style and charisma of four performers of world renown.
Cancel everything else and come to this show! You will love it.
Thursday 19 July 2018 - CLUB BBQ at EL EDEN, Oliva with THE STONED BAND
The club BBQ at El Eden's 'Chill Out' Lounge.

This will be a superb BBQ in that special and exotic feeling location but what is more .... we have an extra special treat with the music of the Stones played live on the terrace with us. Which is your favourite song? Satisfaction, Brown Sugar, Ruby Tuesday, Paint It Black, Get Off My Cloud, Under My Thumb, Its All Over Now.
We can hear them all! The Stoned band exciting and talented and lead singer Francis is surely more handsome than Mick....?
Thursday 20 September 2018 - -------- THE BLUES BROTHERS EXPERIENCE ---------
The Blues Brothers Experience
The film the Blues Brothers was centred around two brothers - Elwood and Jake Blues immediately after Jake's release from prison. They were raised in an orphanage and become determined to save it from closure by re-forming their band to earn the money. The chaotic scenes as they are chased by police and gangsters whilst trying to perform makes this a brilliant comedy film with cult status. Their rock and roll is exhilarating.
Blues Brothers Experience Benidorm make a fantastic show the music is terrific and their sense of fun infectious. Derek and David are hugely entertaining, full of the energy and musical ability of the originals and have achieved considerable acclaim in Spain.
Their show will make you smile, laugh out loud, dance, shout, wave and clap. They are one of the most unique and best acts to see in this part of Spain. Recommended most strongly. We Need You, You, You !!

Thursday 18 October 2018 - He's Back! ELVIS! An unmissable Show with Timewarp Duo too
We are thrilled to announce that we have secured a visit from Simon Patrick with his extraordinary tribute to Elvis Presley. He is a phenomenal performer ask anybody who saw him here in April 2016. Winner of the Best European Elvis Award in Las Vegas, Simon has made appearances over much of Europe.

This will be a spectacular evening and we have our charismatic and talented friends Timewarp Duo to provide a full evening of superb entertainment and dance music. I do hope all members can see this show.
Thursday 15 November 2018 - GEORGE MICHAEL the finest Tribute with Timewarp too
Careless Whisper, A Different Corner, Jesus To A Child, I Can't Make You Love Me, Amazing, Praying For Time, Faith, You Have Been Loved, Outside, Fast Love ...... and dozens more by the late George Michael.

On his death the BBC stated that he was a pop superstar and philanthropist, with good looks, fine singing voice and song writing skills and fantastic stage presence. But George Michael was a flawed genius and his personal problems were well documented but the beautiful and clever music written with meaning from the heart will remain.

James Bermingham
Some years ago on our first cruise holiday one night in the theatre there was a singer, a tribute to George Michael. I wasn't that interested – as we had all of George's albums - how could this guy on our cruise ship match the CDs played at home on our Hi-Fi ?
But, was I wrong. The artist was totally brilliant – with the looks, style and voice of George at his peak, at his very best. I was 'blown away'.

After three years of trying we can at last bring that performer to the GASC. James Bermingham lives in Ireland but will be with us on this night.

James has being performing his Tribute since 2009, he is also an accomplished musician and studio engineer & music producer. He has performed extensively throughout Europe and Australia.
This will be a night with George's beautiful songs sung with excitement, drama and emotion, I cannot recommend anything more strongly. With Timewarp Duo too to complete the evening!

Thursday 13 December 2018 - CHRISTMAS DINNER DANCE PARTY
Liverpool's Cavern Club comes to the GASC!
It was the mid 1960s and the wealth of groups from Liverpool with their infectious songs will never be forgotten!
The focal point for the music was the Cavern Club. So for our entertainment on this night we have the terrific Starbeats band playing live for us the songs of Gerry & The Pacemakers, The Searchers, Bill J Kramer, The Beatles and loads more.

The dinner will be a traditional succulent Turkey dinner but there will be alternatives.
The evening will have a host of extras including our free draw (for members) with cash prizes amounting to 300 euros.

This will be super evening to be at your club, with your friends and so many friendly faces. Don't miss it!

What other activities would you like ?
NOTE
The Committee would like to remind members of the dress code for the Thursday evening dinners. Smart Casual Wear, no Shorts, Vests or T-shirts. However in the months of June, July and August smart shorts will be acceptable.
Also: all outside events and activities are undertaken at your own risk.
For more info on any of these events or other club matters contact moc.liamg@sgnikoobCSAG