All Events and Quizzes MUST be booked for in advance using the Booking Link that is available at each event and/or Quiz Below.
A table reservation in the first instance can be made via email.
Guests are welcome to attend all of our events.

Thursday 19 September 2019 - 19:30 for 8:00

A TRIBUTE TO ROD STEWART
We are delighted to announce that David John will be back with us. His show in March 2018 was fabulous and hugely enjoyed by the 170 at Viva Espana. We are sure that David will give us another terrific evening with all the songs Sir Rod has made so famous, memorable and sing-a-long.
Do not miss this evening. Sit and watch or take to the dance floor, but make sure you are there!
NOW FULL - No more Bookings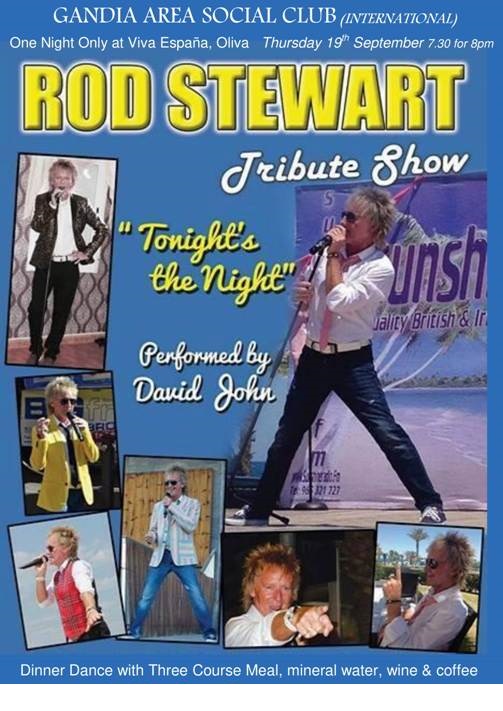 OCTOBER QUIZ NIGHT
Join us for an evening of fun and frivolity as Alan Higgins once again takes to the microphone as quizmaster for our October Quiz. Juansa and his team at Tasca Olivense will again be looking after us - Booking Essential
OCTOBER QUIZ BOOKING FORM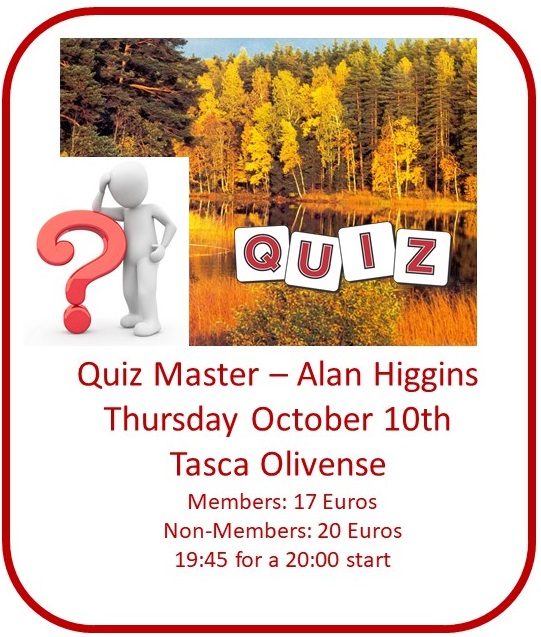 Thursday 31 October 2019 - HALLOWEEN - 19:30 for 20:00

THE ACE BAND IN CONCERT
The Ace Band concert promises to be a highlight of the year as there is nothing quite like excellent live music and the Ace Band give us that.
Their repertoire includes music from The Beatles to The Stones, ZZ Top, Eric Clapton and many more...
See you there!!
THE ACE BAND BOOKING FORM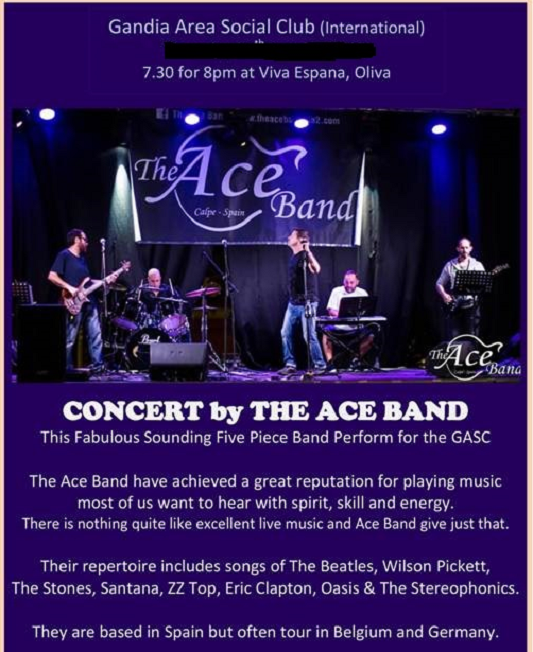 CELEBRATE ST. ANDREW'S DAY
So many of us, thoroughly enjoyed the St Andrews Day party in 2017 that we have arranged another! (we know we are two days early, but hey - you get chance to do it all again on the 30th!)
We will again have music from the terrifically skilled Danny McRae.
Come and enjoy the party with friends old and new. Join in with the fun or sit back and people watch!
Members 21 Euros, Guests 24 Euros
Viva Espana, N332, Oliva - 7:30 for 8:00
Booking essential at: gascbookings@gmail.com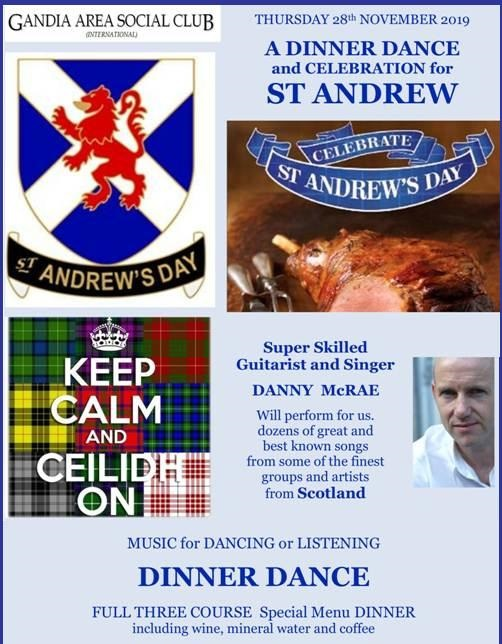 Thursday 12 December 2019 - GASC Christmas Ball

CHRISTMAS BALL
The music will be superbly presented by Rae and Ricky. They are incredibly skilled with their guitars and harmonies - a quality of sound that you may have thought only Don and Phil Everly could achieve. But also individually they have the voices and ability for the romantic tones of Roy Orbison and the energy of those lively, memorable Buddy Holly songs.
Members 22 Euros, Guests 25 Euros
Viva Espana, N332, Oliva - 7:30 for 8:00
Booking essential at: gascbookings@gmail.com
What other activities would you like ?
NOTE
The Committee would like to remind members of the dress code for the Thursday evening dinners. Smart Casual Wear, no Shorts, Vests or T-shirts. However in the months of June, July and August smart shorts will be acceptable.
Also: all outside events and activities are undertaken at your own risk.
For more info on any of these events or other club matters contact moc.liamg@sgnikoobCSAG