All Events and Quizzes MUST be booked for in advance using the Booking Form Link that is available at each event and/or Quiz Below.
Guests are welcome to attend all of our events.

TUESDAY SEPTEMBER 26th - DAY TRIP TO SANTA POLA

We are delighted to offer a day trip to the wonderful Port/Town that is Santa Pola

Santa Pola itself is a popular sun and sand tourist destination with lots on offer, from its lively fishing port to its historic town and castle fortress.The port offers a wide variety of boat options to the famous Tabarca island, a marine and nature reserve, just 3 miles off the coast. Underwater vision catamarans, speedboats, water taxis all do the 15-30 min journey to the island.Once there the island offers a beautiful landscape and stunning views from its quaint old town , and attractive restaurants, and it's easy walking path around the entire island, just 2000 m long and 400 m wide!

So whether you fancy a boat trip to the special island of Tabarca, or just wander round the historic streets, castle and shops of Santa Pola itself this is a lovely trip for you, we will depart Oliva at 09:00, arriving in Santa Pola port at 10:30, departing Santa Pola at 16:00 arriving back in Oliva for 17:30. Places are limited so do book early.

20 Euros Members - 25 Euros Guests
THIS TRIP IS NOW FULL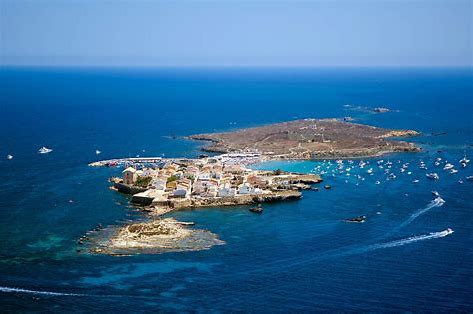 .
QUIZ NIGHT

Wednesday October 4th - 7:45 for 8:00
Tasca Olivense, Oliva

After a fab quiz in September it surely was great to be back at Tasca's, having our own room and being able to shut out the noise was great as was the quiz, we changed how the prizes are given out which we will do again this month, There will be a prize for the winner of the Main Quiz, There will be a prize for the Winner of the Table Quizzes and there will be a prize for the winners of the Music Round. Food will be served at 20:30 and we will have a quiz round before food, the quiz will start at 20:00

Chrissie Teall is the Quiz Master for this one

13 Euros Members, 16 Euros Guests
QUIZ BOOKING FORM
.
James Hirst as ROBBIE WILLIAMS

Thursday October 19th - 7:45 for 8:00
Brisas Del Mar, Piles

Back by popular demand, everyone's favourite "Mr Music" himself, the fantastic James Hirst. We all know that James brings us the best party nights ever with something for everyone, well this time he's gone one step further and put together a fabulous tribute to the one and only Robbie Williams. This is going to be a great night. See you there!

30 Euros Members, 35 Euros Guests
JAMES HURST BOOKING FORM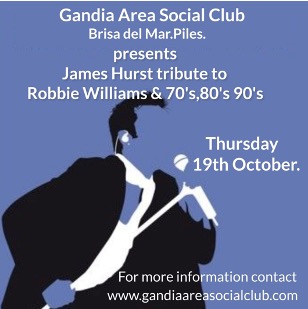 .
FRIDAY NOVEMBER 3RD - DAY TRIP TO CONCENTAINA FOR THE ALL SAINTS FAIR 

Following a very successful trip to the All Saints Fair last year, we have been asked to put it on again so here it is. First held in 1346 as a regional agricultural and cattle market. Today it has become established as a major showcase for traditional farming activities, crafts, farm machinery and means of automation. In addition it offers a wide range of cultural attractions, including a book fair, exhibitions, choral contests, riding and dressage displays, concerts, crafts workshops… There is plenty to see do and taste at this fabulous fair, absolutely something for everyone and a chance to experience more of Spain's hidden depths - we will leave Polivalent Oliva at 09:15 and leaving Concentaina at 15:30 giving us 5 hours to wander round, enjoy a lunch at one of the many food and drink providers and maybe pick up a few Christmas Goodies. Places are limited so book early to avoid disappoint.

15 Euros Members - 20 Euros Guests

THIS TRIP IS NOW FULL
.
QUIZ NIGHT

Wednesday November 8th - 7:45 for 8:00
Tasca Olivense, Oliva

To be announced

13 Euros Members, 16 Euros Guests
BOOKINGS OPEN SHORTLY
.
NOVEMBER EVENT TBC

Thursday November 23rd - 7:45 for 8:00
Brisas Del Mar, Piles

30 Euros Members, 35 Euros Guests
BOOKINGS OPEN SHORTLY
.
.
What other activities would you like ?
NOTE
The Committee would like to remind members of the dress code for the Thursday evening dinners. Smart Casual Wear, no Shorts, Vests or T-shirts. However in the months of June, July and August smart shorts will be acceptable.
Also: all outside events and activities are undertaken at your own risk.
Please Contact Us here if you would any further information about the Club and/or its events and Quizzes