Diary dates below. Please note: some of these diary dates/events may be provisional. Most excursions and events are open to non members.
Tuesday 16 January 2018 - TUESDAY MORNING ---- THE VITAL CLUB AGM --
.... -- TUESDAY 16th JANUARY 10.30am -- ..

Nobody likes attending meetings!! we do understand BUT this is such an important meeting.

We must have a good percentage of the membership to attend and vote, otherwise the club will break its own rules, the statutes, and another will have to be called asap! That would be a real nuisance to everybody.

There has to be some changes to the team and they need to be 'voted in'. There are the reports on the club finances too, you should be there! So come along, enjoy the refreshments and please prompt your club friends to attend too.

Decisions Are Made By Those That Turn Up !
I hope you will be one of those that support this time.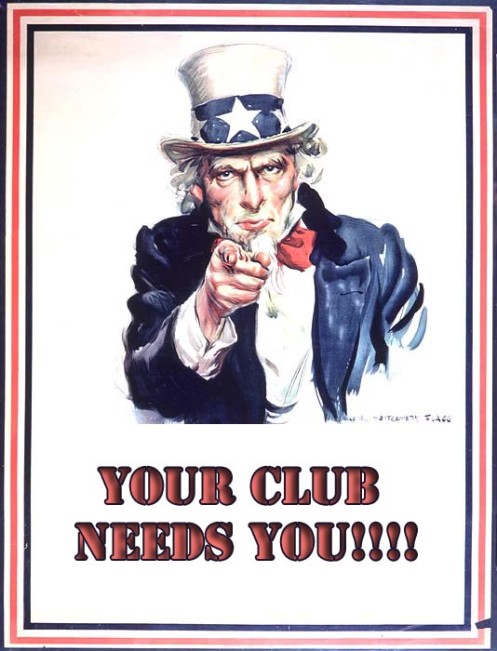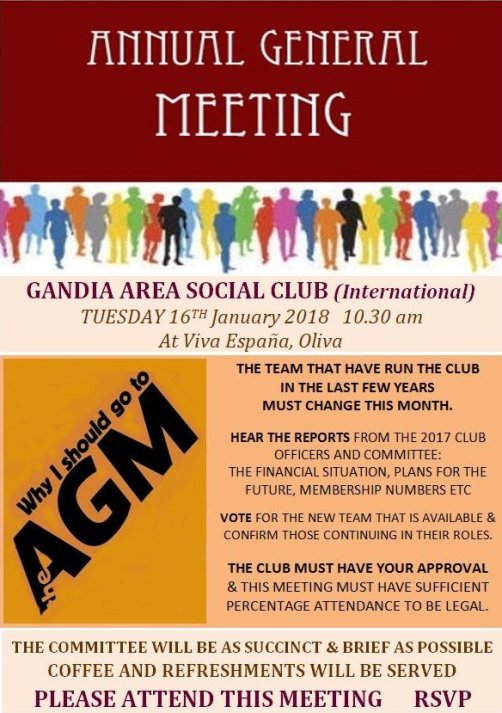 Friday 19 January 2018 - Classical Music Concert in Gandia at 8.30pm
ProMusica continue their winter season of classical concerts of a very high standard, in expensive and in the lovely Casa del Cultura in Gandia. Friday 19th of January has the 'Ensemble de Madrid'. They are a sextet - strings with a pianist. The pieces to be performed are quite short in length but are from very fine Spanish composers - mainly from the Gold Age of Spanish Music'. I hope you may be there to enjoy.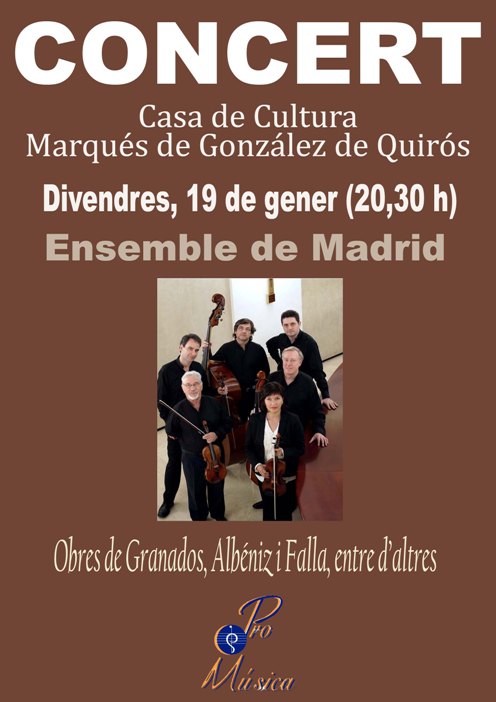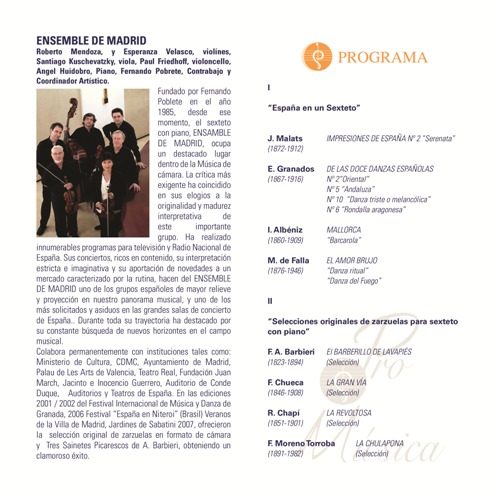 Thursday 8 February 2018 - GASC February Delicious Dinner and Gentle Quiz......
We do really appreciate the very good service and very enjoyable three course dinner at Tasca Olivense. It is a lovely venue and so good to know we can rely on Juansa and his team making everything just right for us, and it makes our job easier!
I guarantee that the quiz will have music, a picture round and general knowledge and all will be light-hearted. No Master Mind, no Brain of Britain or even University Challenge! It is for people like us.....you and me.
The menu has good choices (I have translated it as well as I can!) and with Tasca Olivense we know it will be extremely good.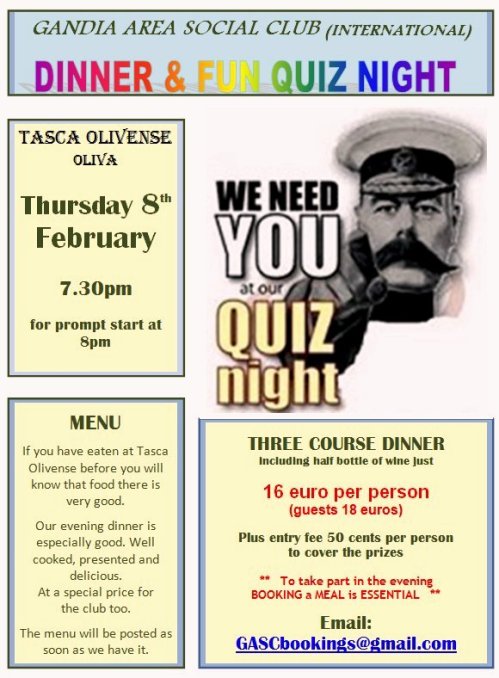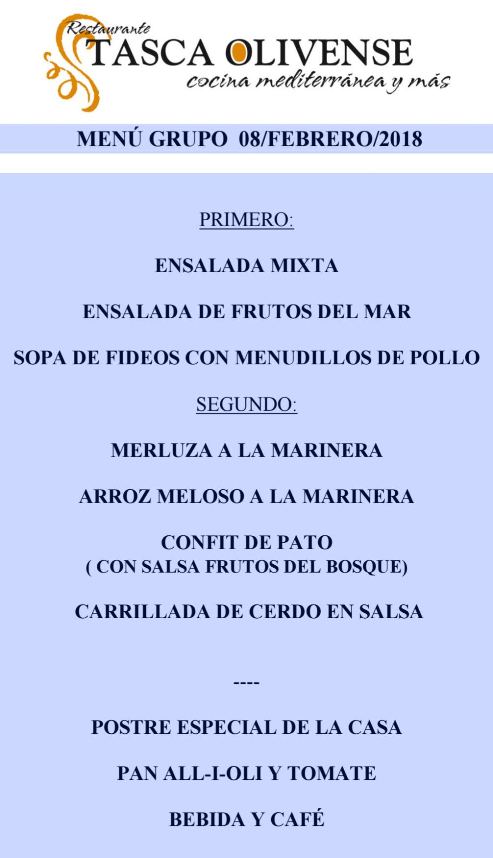 Friday 9 February 2018 - PANTO! Goldilocks - The Oliva Drama & Cultural Assoc
OH YES THERE IS! A PANTOMIME in Oliva on two days too. Thursday 8th at 5pm and Friday 9th Feb at 8pm

It is Goldilocks & The Three Bears by our talented and exuberant friends at the ODCA. You must go to see this! Here is their announcement:
'It's the moment you've been waiting for! The Oliva Drama Group's PANTO is coming soon to a theatre near you. That is the TEATRO OLIMPIA, Carrer Major, OLIVA!
Fun-filled family entertainment guaranteed to have you laughing, clapping and singing along!
Goldilocks and her three bears along with a surprising group of friends (and enemies!) will be delighting you during their two performances.
Thursday, 8th February. Curtain up 17.00
Friday, 9th February, Curtain up 20.00
Come and find out what really happens to Goldilocks and the Three Bears in this new version of a traditional story written by TLC Creative (Damian Trasler, David Lovesy and Steve Clark).
Tickets on sale at Honeydukes Bar, Carrer Major, OLIVA (across from the theatre), OR from any Oliva Drama Group member, OR by calling 644 88 91 55.
Tickets are 7.50 each. Ask about the added value FAMILY TICKET at only 25 euros for 2 adults and up to three children (children up to age of 16).
REMEMBER to keep up to date with the latest news and competitions to win tickets, on our Facebook page, OLIVA DRAMA AND CULTURAL ASSOCIATION
PS Make sure to let your friends and neighbours know about this FUN event!"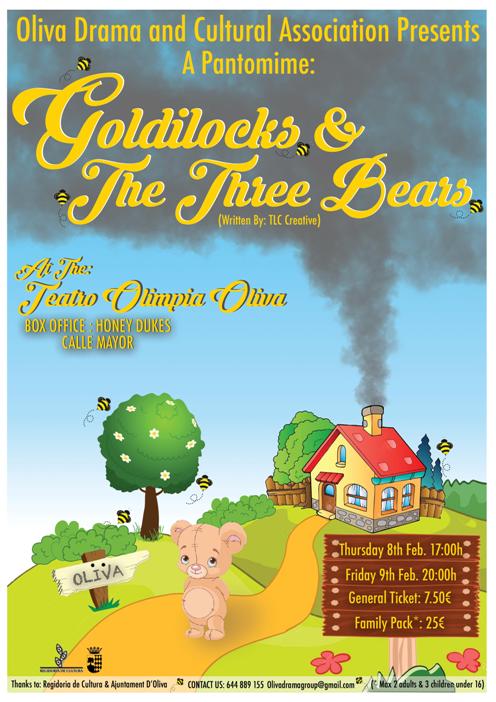 Thursday 15 February 2018 - St Valentine's Party! Karen Noble will entertain us superbly
Our Live Music, Dinner and Dance for St Valentine's Night will be on Thursday 15th February. KAREN NOBLE back by popular demand.

I am delighted to announce that we have Karen returning with another selection from the wonderful music, the songs from the Musicals. I doubt that there is a finer artist to hear perform these complex, emotional, rich and beautiful songs in the whole of Spain. After a short break we will have the other side to Karen's talent (and her own love!) the songs we love to dance to - but to 'sit it out' is fine too! Do come to see and hear and absorb this show, enjoy the company, the dinner and the truly gorgeous music with your fellow club members.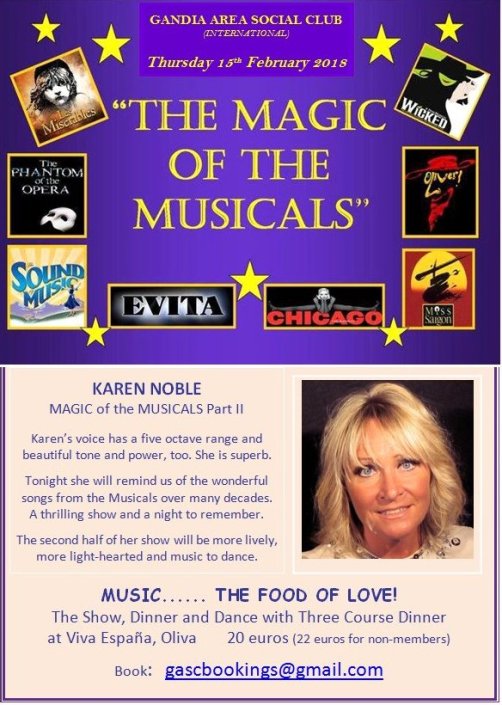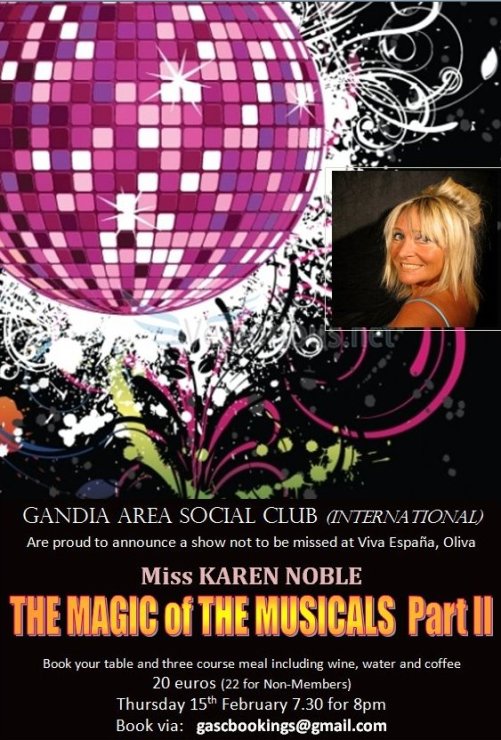 Thursday 15 March 2018 - March Dinner & Quiz at Tasca Olivense, Trivia Night!
Beware the Ides of March!..........who said that?.... but no, no that isn't one of the questions.
Our quiz is then, in the second week of the month but in all other ways it will be our normal quiz night and a very good evening. Will you be there?
Enjoy the venue and it's welcoming ambiance and the beautifully prepared, cooked and served food we can rely on at Tasca Olivense.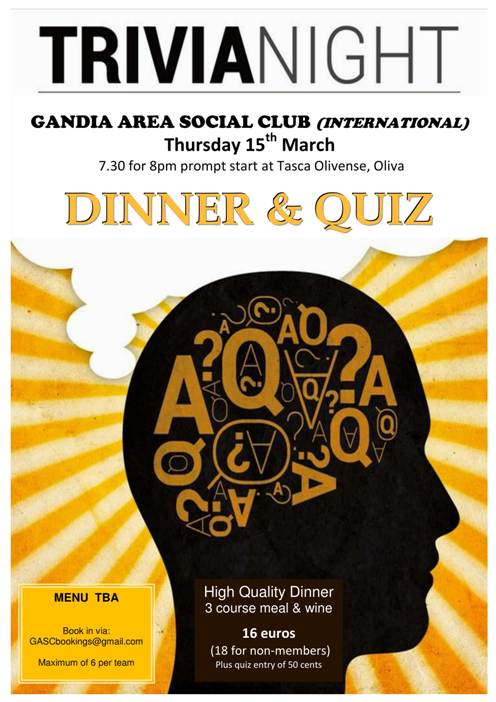 Thursday 22 March 2018 - ROD STEWART a tribute by the best - David John
...... -- TONIGHT'S THE NIGHT! -- .....
Sir Rod Stewart is one of the best-selling music artists of all time, having sold over 100 million records worldwide. He has had six consecutive number one albums in the UK and his tally of 62 UK hit singles includes 31 that reached the top ten, six of which gained the number 1 position.
Rod the Mod was a keen footballer but made music his career in 1963 and had his first No. 1 hit album in 1971.
David John has an uncanny resemblance to Sir Rod and his close rendition to the many pop standards is exciting and encourages us to join in the chorus!
I know that this show will be very popular, don't miss it!

Thursday 19 April 2018 - The Superb CHARLENE DEVLIN with DIVAS of POP
Charlene will give us a fantastic evening with her rendition of the big songs, the memorable huge hits from a dozen big international names. Cher, Shania Twain,Shirley Bassey, Dusty, Kate Bush, Gloria Estefan, Adele, Carly Simon, The Carpenters and more... POWER BALLADS, LOVE SONGS & ROCK 'n' ROLL - DIVAS on FIRE !
Charlene's voice has a great range and is powerful yet smooth on the ear, she really does have real musicality. Charlene has been with us twice before (remember 'Sister Act'?) and is looking forward to seeing us all - I am much looking forward to seeing and hearing her.
This will be another terrific night, I guarantee. Come and hear for yourself!
Thursday 24 May 2018 - THE PHIL COLLINS EXPERIENCE by Rob Lewis.
Against All Odds, In The Air Tonight, Take A Look At Me Now, Another Day in Paradise, One More Night.
Many more, more songs were huge international hits for Phil Collins and then there were all the winners from the band called Genesis.
Rob Lewis bears a real resemblance to his hero and has been a professional singer for more than 10 years. In 2005 Rob was a winner of ITV's Stars in Their Eyes which brought him a thank you letter from Phil Collins himself!
Don't miss this evening of the up-beat, melodic and easy to enjoy (and romantic) music performed live by Rob Lewis. This will be a great night. I do hope you can be there.

Thursday 21 June 2018 - THE RAT PACK and TOM JONES Double Show
Jim McMail has a seriously beautiful, rich, powerful and warm voice. He has an uncanny ability to capture the essence of those three guys Dean Martin, Sammy Davis Junior and Frank Sinatra. But further his tribute to Sir Tom Jones is superb too. The sounds, the style and charisma of four performers of world renown.
Cancel everything else and come to this show! You will love it.
Thursday 19 July 2018 - CLUB BBQ at EL EDEN, Oliva with THE STONED BAND
The club BBQ at El Eden's 'Chill Out' Lounge.

This will be a superb BBQ in that special and exotic feeling location but what is more .... we have an extra special treat with the music of the Stones played live on the terrace with us. Which is your favourite song? Satisfaction, Brown Sugar, Ruby Tuesday, Paint It Black, Get Off My Cloud, Under My Thumb, Its All Over Now.
We can hear them all! The Stoned band exciting and talented and lead singer Francis is surely more handsome than Mick....?
Thursday 20 September 2018 - -------- THE BLUES BROTHERS EXPERIENCE ---------
The Blues Brothers Experience
The film the Blues Brothers was centred around two brothers - Elwood and Jake Blues immediately after Jake's release from prison. They were raised in an orphanage and become determined to save it from closure by re-forming their band to earn the money. The chaotic scenes as they are chased by police and gangsters whilst trying to perform makes this a brilliant comedy film with cult status. Their rock and roll is exhilarating.
Blues Brothers Experience Benidorm make a fantastic show the music is terrific and their sense of fun infectious. Derek and David are hugely entertaining, full of the energy and musical ability of the originals and have achieved considerable acclaim in Spain.
Their show will make you smile, laugh out loud, dance, shout, wave and clap. They are one of the most unique and best acts to see in this part of Spain. Recommended most strongly. We Need You, You, You !!

Thursday 18 October 2018 - He's Back! ELVIS! An unmissable Show with Timewarp Duo too
We are thrilled to announce that we have secured a visit from Simon Patrick with his extraordinary tribute to Elvis Presley. He is a phenomenal performer ask anybody who saw him here in April 2016. Winner of the Best European Elvis Award in Las Vegas, Simon has made appearances over much of Europe.

This will be a spectacular evening and we have our charismatic and talented friends Timewarp Duo to provide a full evening of superb entertainment and dance music. I do hope all members can see this show.
Thursday 15 November 2018 - GEORGE MICHAEL the finest Tribute with Timewarp too
Careless Whisper, A Different Corner, Jesus To A Child, I Can't Make You Love Me, Amazing, Praying For Time, Faith, You Have Been Loved, Outside, Fast Love ...... and dozens more by the late George Michael.

On his death the BBC stated that he was a pop superstar and philanthropist, with good looks, fine singing voice and song writing skills and fantastic stage presence. But George Michael was a flawed genius and his personal problems were well documented but the beautiful and clever music written with meaning from the heart will remain.

James Bermingham
Some years ago on our first cruise holiday one night in the theatre there was a singer, a tribute to George Michael. I wasn't that interested – as we had all of George's albums - how could this guy on our cruise ship match the CDs played at home on our Hi-Fi ?
But, was I wrong. The artist was totally brilliant – with the looks, style and voice of George at his peak, at his very best. I was 'blown away'.

After three years of trying we can at last bring that performer to the GASC. James Bermingham lives in Ireland but will be with us on this night.

James has being performing his Tribute since 2009, he is also an accomplished musician and studio engineer & music producer. He has performed extensively throughout Europe and Australia.
This will be a night with George's beautiful songs sung with excitement, drama and emotion, I cannot recommend anything more strongly. With Timewarp Duo too to complete the evening!

Thursday 13 December 2018 - CHRISTMAS DINNER DANCE PARTY
Liverpool's Cavern Club comes to the GASC!
It was the mid 1960s and the wealth of groups from Liverpool with their infectious songs will never be forgotten!
The focal point for the music was the Cavern Club. So for our entertainment on this night we have the terrific Starbeats band playing live for us the songs of Gerry & The Pacemakers, The Searchers, Bill J Kramer, The Beatles and loads more.

The dinner will be a traditional succulent Turkey dinner but there will be alternatives.
The evening will have a host of extras including our free draw (for members) with cash prizes amounting to 300 euros.

This will be super evening to be at your club, with your friends and so many friendly faces. Don't miss it!

What other activities would you like ?
NOTE
The Committee would like to remind members of the dress code for the Thursday evening dinners. Smart Casual Wear, no Shorts, Vests or T-shirts. However in the months of June, July and August smart shorts will be acceptable.
Also: all outside events and activities are undertaken at your own risk.
For more info on any of these events or other club matters contact moc.liamg@sgnikoobCSAG