To Book for an Event or Quiz go to the Event Booking & Menu Choice  or Quiz Booking & Menu Choice within the Members Section of the website.
All events are open to Non-Members
Thursday 7 March 2019 - March Quiz

David Proctor will once again be entertaining us with his quiz this month. The last (and first) time David was quizmaster for us was when El Eden let us down, David was clearly not put off by the shenanigans that evening and hoping all goes well this month!!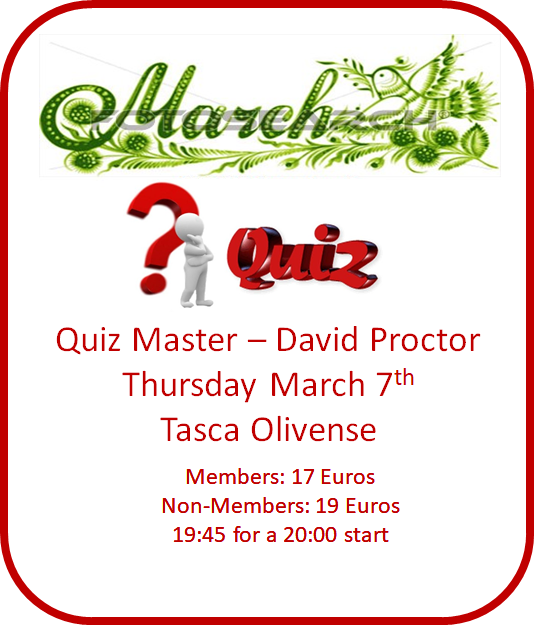 Thursday 14 March 2019 - Celebrate St. Patricks with Dusty Springfield

St Patrick's Day Parties and Festivals happen all over the world. Now the GASC will have our own party - but a few days early (as the 17th is a Sunday).
The music will be a tribute to Mary Isobel Catherine Bernadette O'Brien - DUSTY SPRINGFIELD! We guarantee it will be superb.
Karen Noble is a gifted, classically trained singer and is wonderful with Dusty's songs - she has even recorded CDs of songs made famous by Dusty.
There will be music for taking to the dance floor or sitting back and enjoying along with a good dinner and a special St Patrick's Day party atmosphere. Hope you can be there.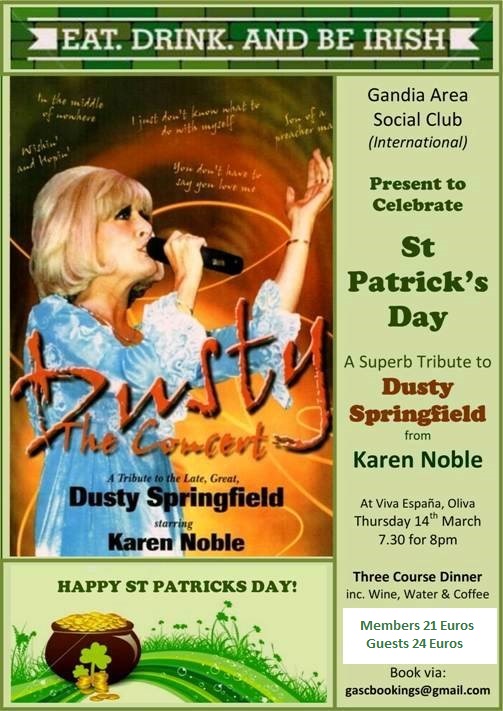 Thursday 4 April 2019 - QUIZ - Tasca Olivense

The indomitable Alan Higgins will be entertaining us this month with his very own quiz style. An evening of great quiz entertainment is sure to be had.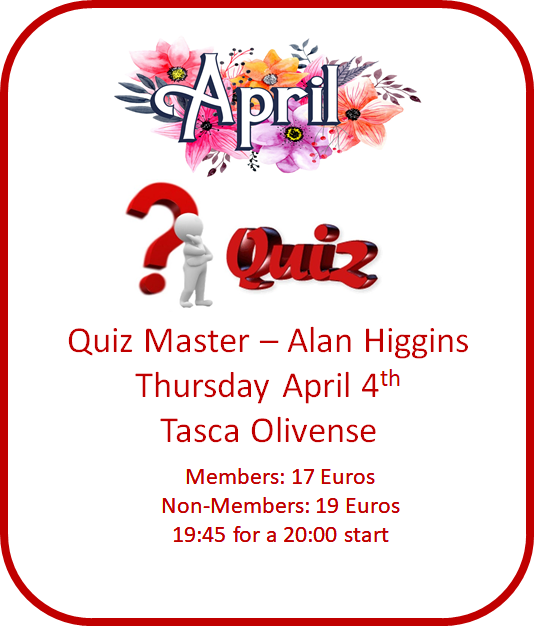 Thursday 25 April 2019 - Celebrate St George with us


We have booked the extremely skilled and talented band The StarBeats to play for us live on stage the most memorable songs from many decades - hits in England from lots of Music legends.
This will be a wonderful musical evening - Let's be proud and show it!
Members 21 Euros, Guests 24 Euros
Viva Espana, N332, Oliva - 7:30 for 8:00
Booking essential at: gascbookings@gmail.com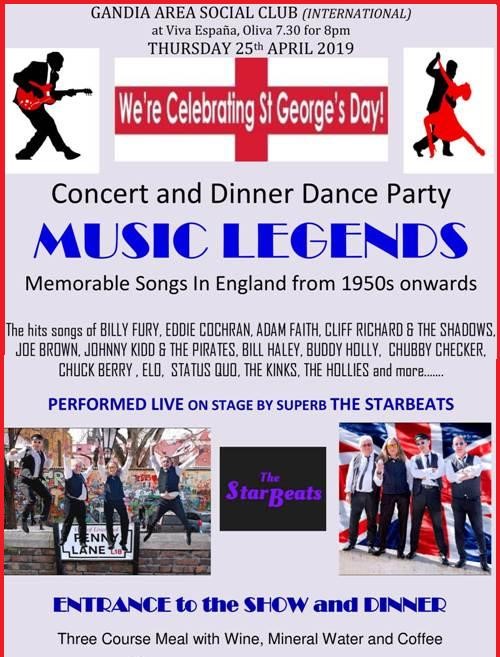 Thursday 30 May 2019 - GASC 30th Birthday Party with ABBA Elite

Mama Mia, it's our birthday!!!!!!
Yes, it's true, 30th May 2019 sees the 30th anniversary on the inauguration of our Social Club, GASC. And to help us celebrate this milestone in the best party style we have booked a superb show night direct from Benidorm, with the internationally renowned Abba Elite. More than just a tribute band, these guys have a brilliant all singing, all dancing show to get you joining in with them. They have put together an entertaining and energetic show to entertain us all. The harmonies are flawless, the costumes spectacular, the choreography breathtaking. And we will get them to thrown in some good old 70's disco classics for good measure. So all you dancing queens, pull on your glad rags and party shoes and come and help us celebrate. Loved by audiences of all generations, this would be a great night out for all, especially if you've got the family over for the half term holidays. Bring them all along for a good old boogie!
Thursday 20 June 2019 - BARN DANCE!

We have had numerous requests for another Barn Dance and are delighted to say that we have The Shamrockers band together with the expert caller Aileen Lightfoot booked.
We do hope that many, many members will be there to have a go at this hilarious activity. Its great when you get it right, its great when it goes horribly wrong! So, find those boots, put on that check shirt, denim jeans and a hat and see you there!
Viva Espana, N332, Oliva - 7:30 for 8:00
Booking essential at gascbookings@gmail.com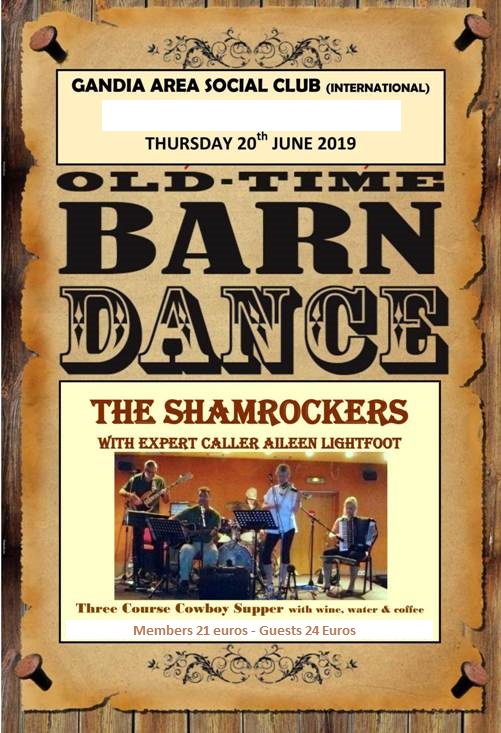 Thursday 18 July 2019 - Jubilee Jazz Band
This year we are delighted to announce the musical entertainment will be from the brilliant jazz band with players The New Jubilee Jazz band. They will play for us a wide range of compositions Dixie, Rag Time,New Orleans and much more. Book early to be sure to enjoy the delicious food on a sunny day full of the rhythms and warm sounds of clarinet, trombone, double bass, trumpet ....... It is a MUST!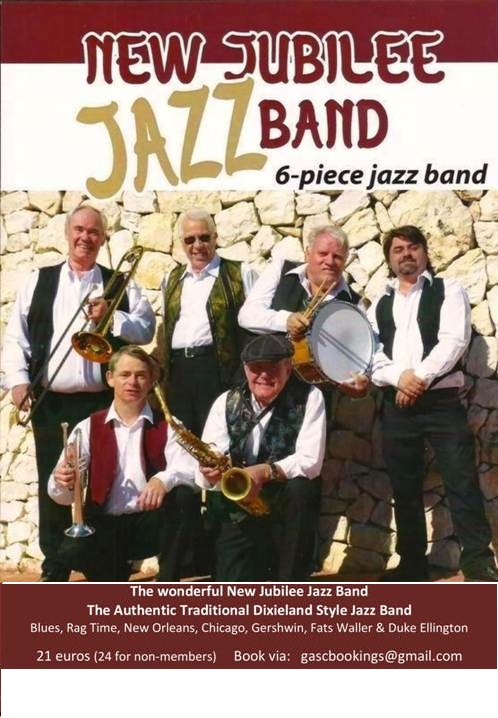 Thursday 19 September 2019 - ROD STEWART

We are delighted to announce that David John will be back with us. His show in March 2018 was totally fabulous and hugely enjoyed by the 170 at Viva Espana.
I am sure that David will give us another terrific evening with all the songs Sir Rod has made so famous, memorable and song-a-long.
Do not miss this evening. Sit and watch or take to the dance floor, but make sure you are there!
Viva Espana, N332, Oliva
21 Euros Members - 24 Euros Guests
Booking essential at gascbookings@gmail.com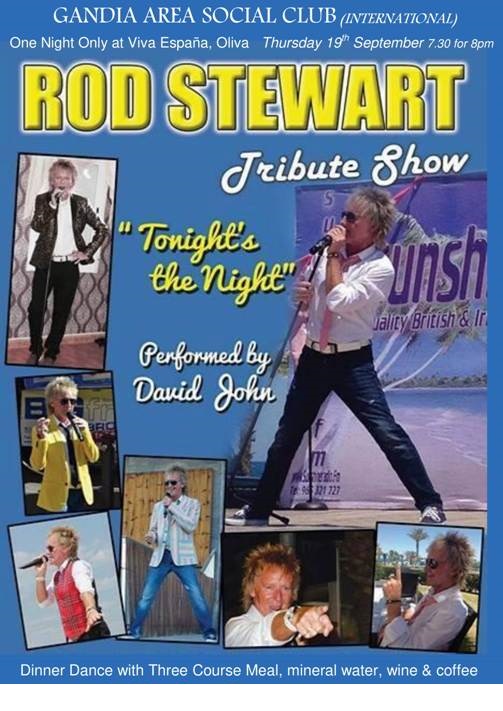 Thursday 31 October 2019 - The ACE BAND in CONCERT

We do hope you will be able to be at the Viva Espana on this day. The Ace Band concert promises to be a highlight of the year.
Countless classic songs performed live for us by this highly talented five piece band.
See you there!!Viva Espana, N332, Oliva
21 Euros Members - 24 Euros Guests
Booking essential at gascbookings@gmail.com
Thursday 28 November 2019 - Celebrate St Andrews Day with the GASC
So many of us, from whichever country (!) thoroughly enjoyed the St Andrews Day party in 2017 that we have arranged another.
We will again have the special dinner and music from the terrifically skilled Danny McRae.
Come and enjoy the party with friends old and new. Join in with the fun or sit back and people watch! I must mention that we have to hold the event on Thursday 28th as the Viva Espana is not available to us on the 30th.
Thursday 12 December 2019 - CHRISTMAS PARTY and what a night for MUSIC!
We are delighted to announce the GASC Christmas Dinner Dance which will be on Thursday 12th Dec.

The music will be superbly presented by Rae and Ricky. They are incredibly skilled with their guitars and harmonies - a quality of sound that you may have thought only Don and Phil Everly could achieve. But also individually they have the voices and ability for the romantic tones of Roy Orbison and the energy of those lively, memorable Buddy Holly songs.
The night will also have our annual SnowBall free draw with big money prizes - be sure to bring your membership cards!
What other activities would you like ?
NOTE
The Committee would like to remind members of the dress code for the Thursday evening dinners. Smart Casual Wear, no Shorts, Vests or T-shirts. However in the months of June, July and August smart shorts will be acceptable.
Also: all outside events and activities are undertaken at your own risk.
For more info on any of these events or other club matters contact moc.liamg@sgnikoobCSAG